This is a picture of our rooster Mr. Cackles with two of his hens patrolling the property for bugs, worms, larva, and other yummy chicken delicacies! That's our sweet corn crop in the foreground, it's disappointingly short this year as we have had a LOT of rain and it is also planted in newly broken ground. This fall we'll put lots of good horse, goat, and chicken poop on it and till it under, then next spring I'm going to plant my cool weather crops in that patch because it is in partial shade. It should be a great location for my lettuce, spinach, beets, peas, cabbage, and other cool crops. I'm not going to have enough corn to can this summer, but we will have lots of corn on the cob to eat fresh. Next year I plan to plant twice as much corn and hopefully the weather will cooperate. God knows what He's doing though and I'm not complaining. The rain and cooler temps have been wonderful for my onions, peas, and lettuce crops! I've canned beans three times for a total of about 36 pints. I've got lots more to do of course. Green beans are just about the only green veggie my hub-unit will eat so we have them almost every night! I need LOTS of pints of green beans!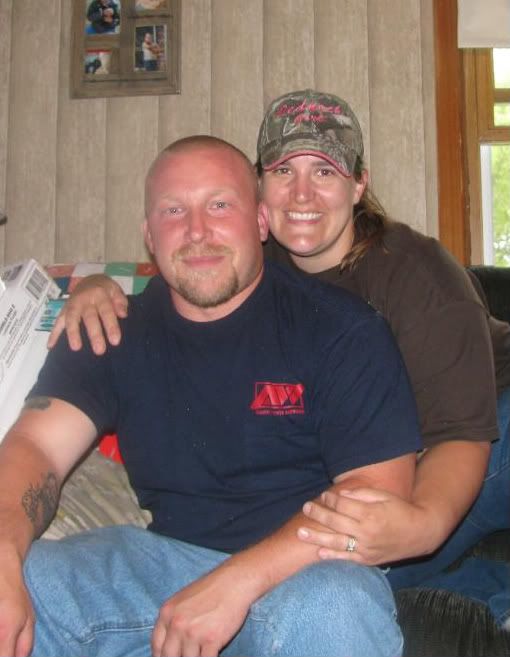 This is a picture that my daughter took of myself and my husband on July 3 (his 36th birthday). We got him two shop lights with bulbs for his shop, and a new tow strap cause he already broke the one that we bought him for Christmas! He was pulling stumps out of the fence row and pop, broke it the first time he used it! lol. After he opened his birthday presents we went catfishing again, but didn't catch anything this time. :( We still had a nice time enjoying the beauty of God's world and being together as a family!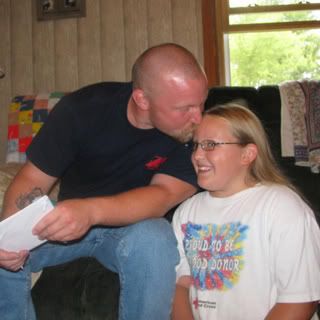 Here a picture of The Youngun and her daddy on his birthday!
This is a picture of The Youngun with a Bald Eagle at the Bald Eagle exhibit at Dixon Mounds in Lewistown IL. Saturday was rainy, rainy, rainy so since we couldn't do anything outside, we decided to take a day trip to the mounds. We are very interested (as an entire family) in the history of our wonderful world. It's really exciting when you have wonderful historical elements right in your own state! Cahokia Mounds is very close to where we live and we've been there a few times, but had never been to Dixon Mounds.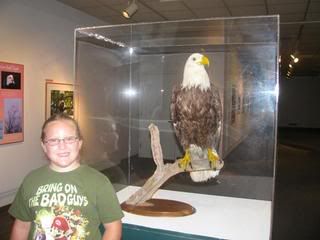 It was a long drive but well worth the trip. We enjoyed perusing the artifacts from Illinois' prehistory. We love to imagine what our state looked like before power lines, litter, and modern buildings. I think it would have been amazing to have walked our state when it was pristine and unsoiled. That said, there is something for living in our modern times as the average age for a woman in the Mississipian culture was 35.........that leaves me 3 years to go! We finished our day trip with a wonderful supper at a diner in Central Illinois. Then it was on to home to get Tulip milked, eggs gathered and rabbits fed and watered!
Our town's Independence Day celebration was postponed due to rain so we went and watched fireworks on Sunday evening. EJ and I reflected on how so many people call it "4th of July" when it is and should be called Independence Day. That is the day that we celebrate our Independence..........an Independence that is slowly but surely being taken away from us. But that is a whole nother can of worms, isn't it!
Till next time................GOD BLESS FROM GOODWIFE FARM!